Suspected of "2018 PubMed declared yesterday. Teacher Li Lin: did not provide any Kaoyanzhenti
Time:
From:AIAT
Author:atr
Views:263
today, the number of users micro Bo said, 2018 unified national graduate entrance examination mathematics subjects "God yati" , the name is "Li Lin" the lecturer is very similar in charge before the video is selected examples and actual exam questions, candidates suspected of having declared yesterday behavior. (see whale media reports: "2018 suspected of postgraduate mathematics declared yesterday, the Ministry of education has to investigate")
this afternoon, suspected postgraduate teacher Li Lin declared yesterday released a number of micro-blog said, has never been online for any student to charge the postgraduate entrance examination, but did not like online said charge high tuition fees 16000 yuan. It does not provide any kaoyanzhenti. Before the exam, I did not get any information of this year's examination questions, and did not know any test content ; if it was false, it would be willing to take any legal responsibility.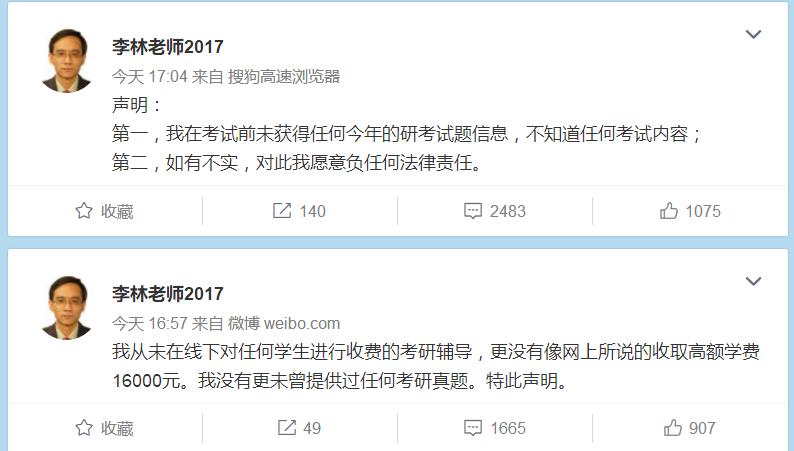 Li Lin micro-blog said the original text is as follows:
network transmission in response to the Ministry of education examination center of postgraduate mathematics tutorial video releases the topic: not real!
to release the topic event, "the Ministry of education official platform micro-blog complained about Education said: today, network transmission of a teacher training video on suspicion of leaking of postgraduate entrance examination mathematics examination. The examination center of the Ministry of Education organized an expert on video and other materials to confirm that the examples given by were all different from that of the actual test questions, . The teacher and the teachers mentioned in the video were not involved in the of the 2018 postgraduate entrance examination mathematics section. The Ministry of Education Examination Center official said that any disruption of the national education examination behavior, once verified, will be severely dealt with according to the law, will not be tolerated.
(pictured from micro-blog)
Dalian University of Technology: serious handling of Li Lin's participation in social examination and postgraduate guidance
and Dalian University of Technology, a teacher involved in Dalian University of Technology, responded that the school explicitly stipulated in the notice on teaching and research guidance classes strictly prohibited that teachers should not take part in the postgraduate entrance examination guidance activities in any way. The school will take a serious deal with the teacher Li Lin's participation in the social examination, and the results will be announced to the society in time for the .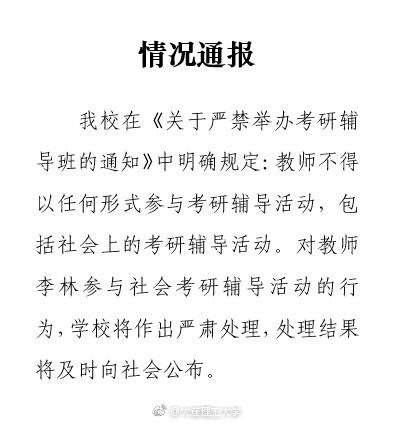 (pictures from micro-blog) return to the Sohu,
editor:
---
From:
被疑"2018考研泄题"教师李林:未曾提供过任何考研真题
Translate by:
Baidu Translate
.