Not seeing is real, genuine AI allotranspantation
Time:
From:AIAT
Author:atr
Views:347
A
BOUTBEAUTY
are you trying to unlock a mobile phone? Did you try to brush your face? Have you played face recognition in a small animal expression? If all, then we can come to a consensus that AI has become more and more proficient in the face of the face.
if recognition is the first thing that AI makes to a face, then what are the second things? From all indications, only one answer, that is to give people face.
of course, AI is not really going to cosmetic (at least not yet), it can do is to give people face in the video. For example, a small video recently scraper level may all have seen.
video heroine (exactly the heroine's face) is "play" the wonder woman Gail gadot. But, of course, it's not what a shamed little movie it has in his own. Instead, someone used deep learning to replace Gail Gadot's face to the body of the original heroine. At first, there's basically no break, but two people don't really look like it.
(left is the original role, the two people are in fact not small)
This is called
ID deepfakes users, has always been committed to sharing its production by using AI technology in Reddit - small video star. Almost all of the red Hollywood stars were "made" by him.
are you feeling a little excited? In the future, I want to see which star's film can do it by himself, even to replace his face with a rival play. All kinds of YY can come true.
when we can't believe our eyes, all kinds of chaos and the weight of sin are definitely bigger than that little illegal "welfare".
the face of horror is very simple, AI
In fact,
video face this thing is not surprising. It is possible to be familiar with "speed and passion 7". In order to return to JeanPaul Walker, the film side used a stand up + dynamic capture +CGI animation way, with Paul's two brothers as a substitute, and finally let the old friends of the audience return to the big screen.
(Paul Walker and eventually becoming the two brother of his scapegoat)
- technology is superb, but does not let us worry. Because this is the art of the film, it must cost a lot of artificial and later special effect costs, and requires professional video editing technology to achieve. This means that the precision of the face and does not appear in the daily life, will not pose a threat to ordinary people.
but AI is breaking all this.
let us go back to the previously mentioned deepfakes small film actress - making. This man is not only an old driver, or a love to share the technology side". He is not only a free release of his achievements, also shared his face not to mind taking the trouble to make video tutorials, and write your own deep learning code and related data set...... Maybe he meant, don't ask me any more who's video, you do it yourself...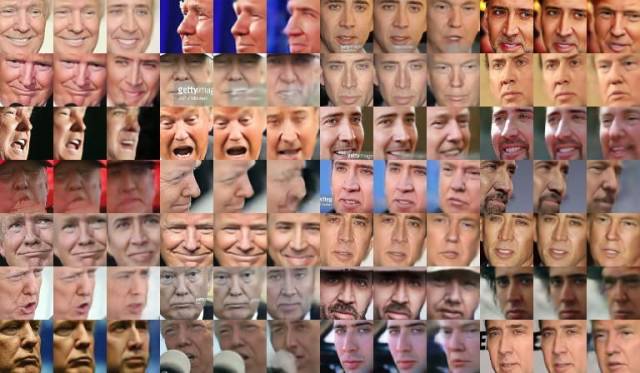 of course, this man is not focused on the female star, is his share of how to replace Nicholas Cage Narikawa general tutorial, perhaps the heart is also well versed in Chinese "expression of package".
according to his share, making a star face video is very simple. The video of Gail Gadot as an example, he will first concentrate all angles collected Gail gadot in Google, YouTube and various network video and pictures. Compose a material library that meets the depth of learning tasks for facial replacement.
then he will learn and understand the facial features, outlines, movements and mouth types of the heroines in the original movie through the machine vision correlation model provided on TensorFlow. Then let the model look for various angles, images and videos that AI considers appropriate in the material library, and replace the original video.
here is the real problem that hidden video face this thing using open source AI framework is not too complicated, too avant-garde, but too simple and too easy!
atmosphere: the next station is live + -
at the beginning of last year, a team from the University of Nuremberg in Germany published an application, a very famous Face2Face. The ability of this application is to track the face through a camera, so that the people in the video are talking to you.
because of its accurate capture effect and real-time ability, Fa
---
From:
眼见未必为实,以假乱真的AI换脸术
Translate by:
Baidu Translate
.