The daily express | financing tentacles live to obtain financing 500 million yuan E round and later, Specsmakers 10...
Time:
From:AIAT
Author:atr
Views:307
editor: This is the 36 krypton launch of the "daily delivery and financing express] column, inventory of domestic and foreign investment and financing trends on the day. Today, the focus of our country is tentacle live broadcast to get 500 million yuan E round and subsequent financing. The focus of overseas investment and financing is Specsmakers's 10 million dollar A round of financing.
There are 36 financing events at home and abroad at home and abroad, which are distributed in 13 industries in
. 30 projects in China have been financed and 6 foreign projects have been financed.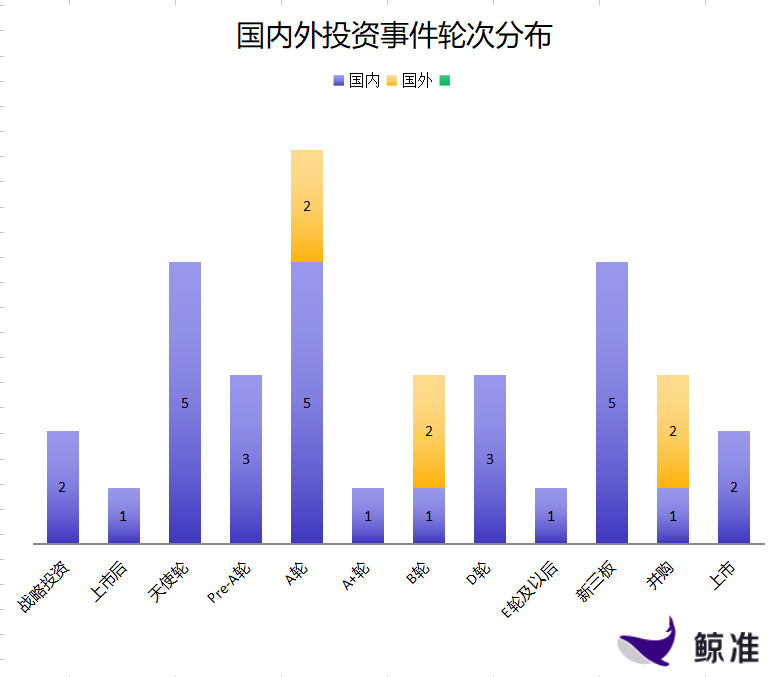 domestic investment and financing event enterprise service
1. Dutch flower to obtain three new board financing
2001 in October 26th, the Lianyungang Municipal Administration for Industry and Commerce approved the Lianyungang Dutch flower bulb limited company established, and issued the "business license" (Registration Number: Qihe Su even total No. 002359), the Dutch company was founded. In September 2, 2016, the Dutch flower in Lianyungang City Administration for Industry and Commerce shall complete the registration formalities and received a new business license "(Unified Social Credit Code: 91320700731175066M).
2. in the era of the Qing Dynasty to obtain tens of millions of RMB Angel wheel financing
sharplumi era is a 3D printing and software development service providers, focus on 3D printing technology and software development, software development, electronic hardware development, material development including the main business, the speed of 3D printing technology from the printing equipment and innovative materials innovation, committed to improve manufacturing productivity and reduce business cost.
similar competitive products: Hai Xin Xin Chengdu water drop flying technology original electronic three peak technology
3. Kang dike shares tens of millions of RMB A round financing
Kang di
shares is a star IP brand management company, through the depth bound star IP to create the brand design and development of idle away in seeking pleasure, in the star brand, marketing and publicity, Kandy is responsible for the supply chain and sales channels, from the selection, design and development, supply chain integration, to the late market promotion and sales, has formed a relatively complete brand incubator system.
similar competing products: unlimited entertainment technology share little red boiling times of Xiong Chuanchuan culture south pan entertainment
4. chain chain does not forget to get angel wheel financing
5. Long Blockchain won $2 million after the listing of
long blockchain production, distribution, market and sale of its signature ice tea is named "long islandbr ice tea". Long Blockchain produces, distributes, markets, and sells its signature line of iced
production and manufacture of
1. Liancheng precision listing
Manufacturing R & D design and production in all kinds of precision machinery parts and components of
Liancheng precision focus, with iron and aluminum products such as metal casting mold development, casting, machining in one complete industrial chain, can provide the casting mold design to finished product delivery of the complete service for customers, and have the ability to undertake cross sectoral, multi large and small batch varieties, various types of business.
similar competing products: mechanical balance vekan precision technology Fuliwang shunhing Seiko
Remington
2. Hailey branch to obtain three new board financing
In June 18th
2004, the company approved the registration of the business license of the enterprise legal person, which was issued by the Beijing Municipal Bureau of industry and commerce, with the registration number of 1102242706644. In April 11, 2017, the company submitted to change the application materials for registration, Daxing Branch of Beijing city Industrial and Commercial Bureau to inform the company name with "science and technology", business scope is required to contain "technology development" project management; but considering the company has held the inaugural meeting, Beijing city Industrial and Commercial Bureau Daxing Branch of the company to submit materials in handwritten add "technology development" words, and require the company to the next meeting of shareholders by increasing "technology development" operating range of motion compensation. On the same day, the Beijing industry and Commerce Bureau issued the business license of the joint-stock company (the unified social credit code is: 9111011576350299XB).
similar competing products: WholePort
3. start-up environment to obtain new three board financing
The limited establishment of
was registered in August 24, 2010 to obtain the business license of enterprise legal person issued by the Bureau of industry and Commerce of Yixing, Wuxi. In September 19, 2016, the Wuxi Administration for Industry and Commerce changed the registration of former permitted company, and the company received the "unified business credit code" 91320282560327458N, "business license"
.
similar competing products: Huarun snowflake brewery financial fortune
4. gaoye heavy industry to obtain three new board financing
In March 5th
1999, limited company obtained the "business license of enterprise legal person" that the registration number of the Rugao Municipal Administration for Industry and commerce was 3206822100153. In April 14, 2017, the company obtained the business license issued by Nantong Administration for Industry and commerce, which is a unified social credit code 913206821383392773, and the joint stock company was formally established.
entertainment media
1. guest media obtain tens of millions of RMB Pre-A round financing
guest media is a commercial content and program producers, around the commercial content, build from the plane to the video, from the case to the tutorial, from theory to practice, from technology to the full dimensions of the content system. Financial visits to the products under the flag
---
From:
每日投融资速递 | 触手直播获得5.0亿人民币E轮及以后融资,Specsmakers获得10...
Translate by:
Baidu Translate
.