QG club has reached a strategic cooperation with Lan Xiang Institute of electronic athletics to create a excavator team
Time:
From:AIAT
Author:atr
Views:283
this afternoon, QG electronic sports club announced on the official micro-blog, they reached a strategic partnership with Lan Xiang electric institute.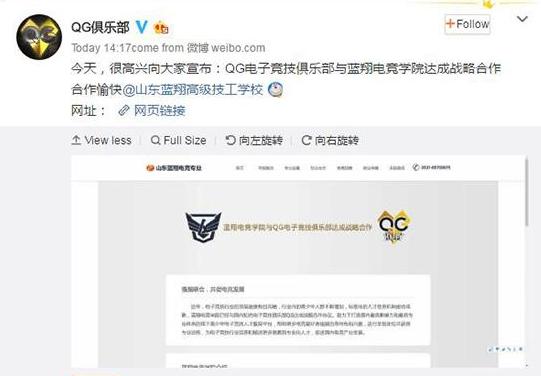 the two sides mentioned in the announcement of cooperation, the strategic cooperation will focus on several aspects of electronic sports personnel training, professional electronic sports occupation development and employment, the line construction of venues covering, the two sides will cultivate talents at the same time as the electronic sports industry, promotion of electronic athletics spirit, actively promote the correct understanding of electronic athletics in the view of young people and social groups, so that a win-win cooperation platform to achieve the social benefit and economic benefit.
In addition
, QG Gaming Club will be landing in the youth camp Lan Xiang gaming college, while providing all kinds of gaming related training and internship and employment support for the Lan Xiang gaming institute. Lan Xiang electronic athletics club currently has to survive, the glory of the king, the Jedi heroes Union three project group, project goal is to survive the Jedi group through the establishment of the Tencent occupation League occupation league team qualification within a year, the glory of the king project team scored KPL within a year, the British male occupation League alliance project group scored within a year.
at present, QG is one of the most famous E-sports clubs in China and the top team in the LOL arena. At present, the most attracting attention of QG is QGhappy, the "King glory" division. They just achieved three consecutive championships in the KPL arena last weekend, which is called the strongest team in the "King glory" career circle.
It seems that after
is not only the excavator which is strong, perhaps the next few years we can see the students from Blue Xiang eSports graduate in electronic athletics occupation of each game, or see Lan Xiang electronic athletics club players figure. After all, as a well-known technical college, its talent reserve is not yet available to many clubs at home.
After seeing the news,
netizens were also having a big hole in the brain:
according to students at Lan Xiang college, the Lan Xiang college is now open, and the student has spent more than 40 thousand yuan. Two years ago, mainly study the gaming theory knowledge and operating skills, after two years of study, third years, the school will give students a year for gaming "practice in the field, outstanding students will have the opportunity to emerge in the gaming clan. return to the Sohu, see more
editor:
---
From:
QG俱乐部与蓝翔电子竞技学院达成战略合作 创建挖掘机战队
Translate by:
Baidu Translate
.