The five major anti foreign plan of the "Jedi survival" state suit is announced, and the Tencent will strike out of the multi dimension
Time:
From:AIAT
Author:atr
Views:310
from multi dimension.
game grape December 26th news, today, Tencent game safety center official micro-blog released the "Jedi survival" national clothing five counter plug-in plan: anti plug-in group was established, TP anti external guarantee, rigorous reporting and verification, offline criminal strike, original game credit. Since November 22nd Tencent was officially "Jedi survival" national service agency, on the remediation of "plug-in" will continue to spread the news, announced the five plan, means that the Tencent's anti plug initiatives will be systematic and regular, it also shows that the Tencent did have a "blow" on the important position.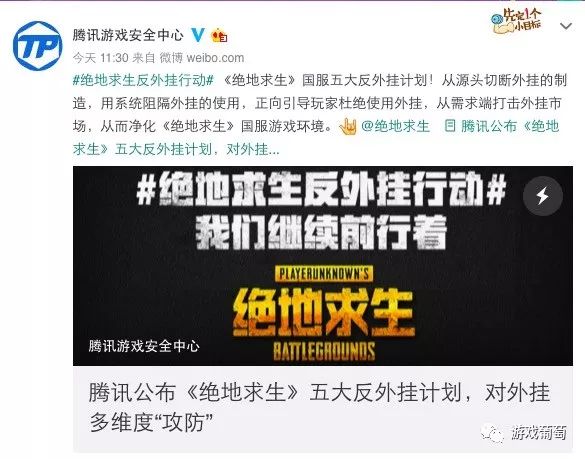 1. anti external panel set up
's so-called "anti plug-in group" refers to the "national service and anti plug-in special group" jointly established by Jedi survival, national service operation team, Tencent game safety center and Tencent safety management department. It is committed to ensuring stable operation of technology through technology and legal means.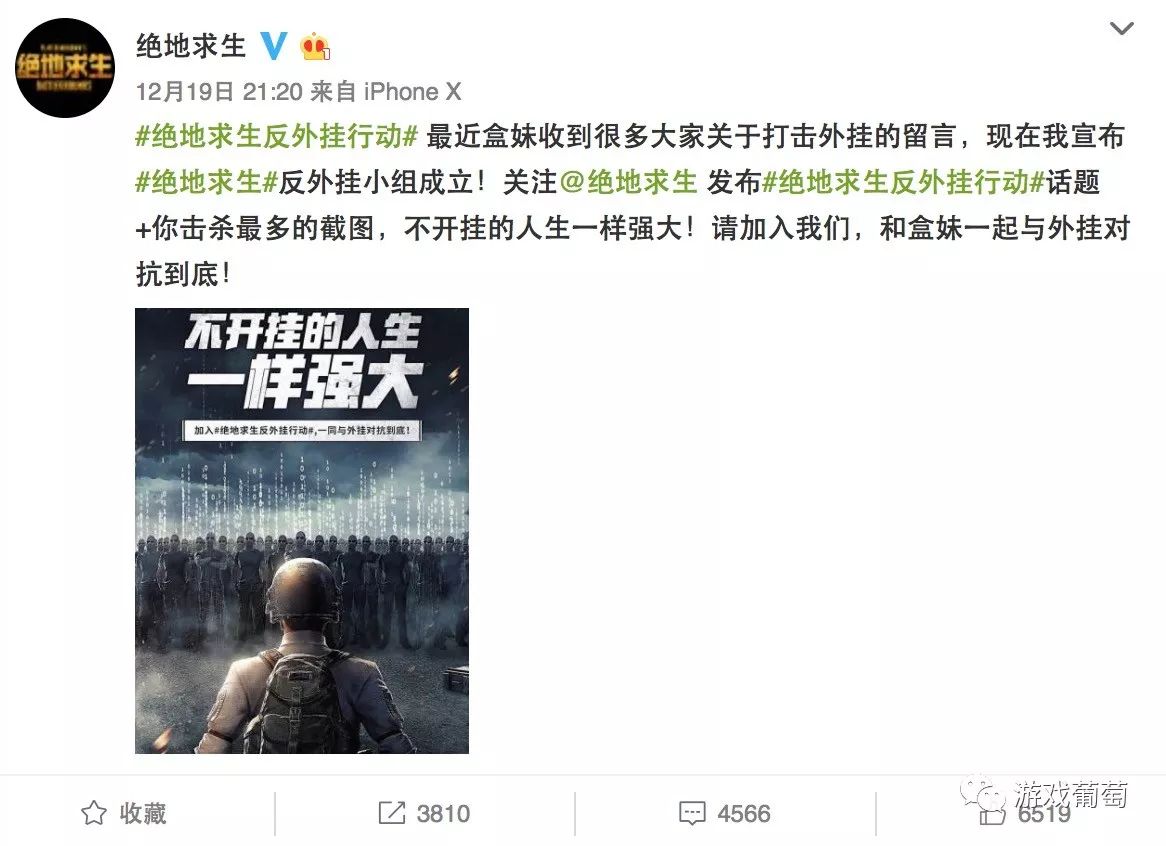 On the 19 th of
12, the official release of Jedi's survival announced that micro-blog announced the anti plug-in group. As of today, micro-blog has received 3810 forwarding, 4566 commentaries and 6519 points of praise. At the same time, tiger live and Penguin gaming and other broadcast platform, colin_ and other well-known game game Snake brother anchor have also expressed support for comments.
2. TP anti external support
It is reported that
, the Tencent developed the TP anti cheat system "through a series of technical means, fast real-time collection and analysis of external samples, which will benefit in a short time to verify and blow.
3. rigorous reporting and verification of
, just like a few days ago, "Jedi survival" producer encouraged users to actively report plug-ins while accepting foreign media interviews. Tencent officials also expressed high support for "reporting plug-ins". The Tencent game safety center points out that the Jedi survival "national costume" will cross check the reported data with TP anti external detection in real time, and all effective reports can get feedback results online.
Criminal attack on under
4. line

12 21, Tencent in Jiangsu Wuxi joint police cracked the first case of the five plug-in, anti plug plan, the criminal is also included. Officials say the Tencent safety management department has maintained long-term cooperation with the police, and has rich experience of offline criminal strike in the field of plug-in attack. It will strike criminal activities against black products such as plug-ins online.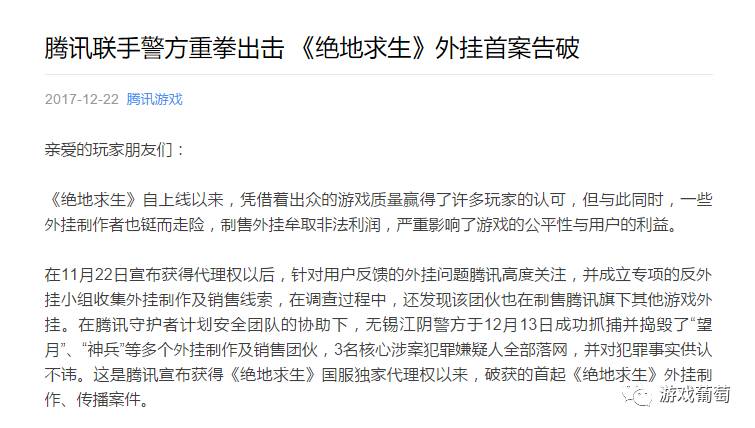 5. original game credit

recently, Tencent launched a service called Tencent game credit, which has attracted the attention of Internet users. Among them, information related to cheating punishment is worth noting: correct reporting behavior will increase credit score, if negative, cheating behavior is systematically punished, it will reduce credit score. Similar to previous "credit scores", Tencent game Safety Center said it would create a "Jedi survival exclusive game credit system" for "Jedi survival" national costume, so as to reduce the occurrence of plug-in behavior.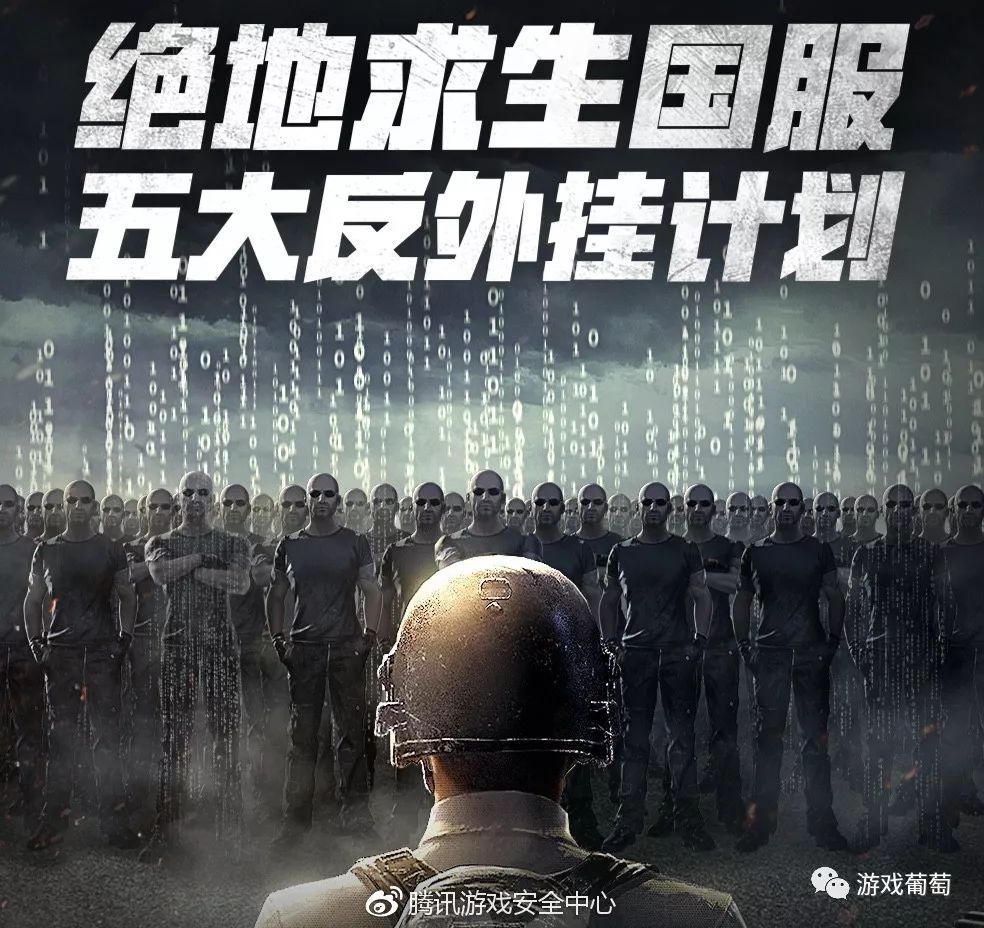 Since the advent of

's "Jedi survival" online, a lot of plug-ins have had bad effects on the gaming experience. Therefore, the plug-in problem has attracted much attention since Tencent announced its national service agent. If the Tencent blow measures can achieve better effect, so not only can greatly improve the Jedi "survival" serving the country's experience can testify the feasibility of game player, in the fight against the plug systematic, regular way, perhaps in response to the problem of domestic manufacturers outside, to bring a deeper impact. return to the Sohu, see more

editor:
---
From: 《绝地求生》国服五大反外挂计划公布,腾讯将从多维度打击外挂
Translate by: Baidu Translate .