Intelligent hardware explosively growth, where can our privacy go?
Time:
From:AIAT
Author:atr
Views:326
editor's note: before, a piece of "92 years girl to Zhou Hongyi: do not stare at us again" article, the 360 drops of live broadcast has been pushed to the top of the storm, causing people to pay attention to user privacy. Recently, 360 announced the initiative, the permanent closure of the water droplets live platform, the incident is also a curtain. However, with the explosive growth of all kinds of networked intelligent devices, the problem of user privacy security is becoming more and more worthy of attention. CNBC reporter Erin Barry interviewed the executive editor of Ed, Lee, the chief executive of science and technology website Recode, discussed the safety and privacy issues caused by intelligent networking devices, and put forward that consumers should be more careful and prevent in advance.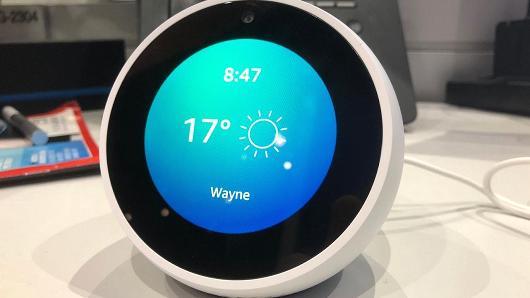 no matter whether consumers buy small networked devices or Amazon Echo to make gifts in this Christmas season, we cannot deny the fact that the world we live in is more closely linked through intelligent devices. Although the convenience and advantages of this are unquestionable, it does make it easier for us to be attacked by hackers.
, according to Gartner, an information technology research and analysis company, estimates that the number of "Networked Objects" used around the world this year totalling 8 billion 400 million pieces. This is up 31% over 2016, and it is expected to reach 20 billion 400 million by 2020. This explosive growth trend will allow consumers to face the risk of being infringed by privacy.
Ed Lee, executive editor of
technology website Recode, said in an interview with CNBC: "networking tools sounds cool, and there are many great functions, but it also means that hackers are another way to get consumers' privacy. Consumers have to be more careful, you have to know what these tools can do. "
in order to be safe, Lee suggests that children can be supervised by parents or guardians when they are using these networking gadgets, so as to ensure that they use the right way. In addition, the editor said that when it was not used, make sure that "turn off the device and remove the battery, so that it will not turn on itself anyway".
finally, Lee also advised people to learn more when using these tools, "is there a camera? A microphone? Is there a GPS location? These are potentially dangerous functions. "
consumers want to be careful with
When referring to other devices such as Amazon Echo and smart phones and smart phones,
pointed out that "consumers should be more smart about how the world works around the world," Lee said. Smart devices provide convenience and ease of use for users, but experts say many consumers are unable to set up new devices correctly. Is it worthwhile to take on possible security risks for this convenience?
's answer to this question, Lee, is that the benefits outweigh the disadvantages. But he added that Silicon Valley developers need to consider safety issues from the beginning. He said: "(developers) whether to take a step, really considered these tools will be how to use? How can it be used? This is the problem they need to deal with. "
, therefore, Lee believes that consumers can hold such a vigilant attitude when looking at these devices, and think that someone may try to solve these devices. "You get smarter and become a sophisticated consumer," he said. At the same time, Lee said Congress should set up new regulations to protect consumers, especially in today's world, which is advancing towards what he calls the new wave of "environmental computing". The user also needs to know more about the function of the equipment and take the necessary precautions.
text link: https://www.cnbc.com/2017/12/23/smart-gadget-boom-means-buyers-beware-of-privacy-hacking-risks.html
compiled group. Editor: return to the Sohu, look at more
editor:
---
From:
智能硬件爆炸式增长,我们的隐私还能往哪藏?
Translate by:
Baidu Translate
.