Hand - Live platform "tentacle TV" obtained 500 million yuan new round of financing, Google lead investment
Time:
From:AIAT
Author:atr
Views:1844
investment circles (WeChat ID:pedaily2012) December 27th news, recently reported that hand Tour Live platform "tentacle TV" has received 500 million yuan in a new round of financing, led by Google, DoNews approached the people who approached the contact TV inquiries, the other said the news is true.
tentacle TV is a barrage live broadcasting platform dedicated to mobile games. It was launched in July 2015. Now it has more than 100 thousand players and more than 10 million hand games visitors.
on the Google investment enterprise and China incoming broadcast field, for a time, there have been many guesses. On the one hand, this is an important signal China Google return to the mainland market, on the other hand, from the industry perspective, 2016 is the first year of thousands of live broadcast, war thunder two, by 2017, small game player have to exit, but slightly deserted, today, the giant in melee marks has ended. Between the giants began to carve up the market.
has an analysis of the industry. Google's core business is search engine and advertising. This investment will touch TV, and it will be combined with Google's core business, and make a breakthrough in live advertising.
public information shows that as of now, the tentacle TV has accumulated 5 rounds of financing, for details see the following table: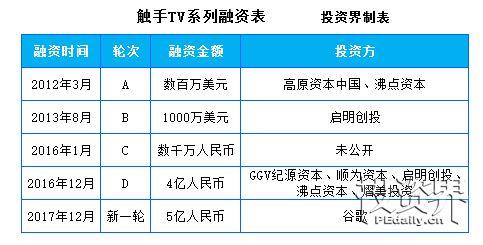 return to the Sohu, see more
editor:
---
From:
手游直播平台"触手TV"获得5亿元新一轮融资,谷歌领投
Translate by:
Baidu Translate
.